[Shipping]


Orders are shipped by United States Postal Service(USPS) Express, USPS Priority, USPS First Class, or UPS Next Day Air, UPS 2nd Day Air, UPS 3 Day or UPS Ground.
If you want to use your own shipping carrier, please advise us of your courier company name, account number and carrier contact information/representative at the last page of your order process(in a comment box).
We only ship to United State and CANADA. If you are outside the United State and CANADA and are interested in purchasing our products, please contact us
[3rd Party Shipment]
Shipping service is provided by third party (e.g. UPS, USPS, FedEx, etc..). We are not responsible for delay during shipping, package loss, products damage or any other mistakes caused by shipping carriers.
[Lead Time]
If we receive orders before 12 pm(PST) Monday - Friday, and ordered items are in stock, we usually ship out orders by the end of the day. If we can not ship out by the end of the day, we will ship the items as swiftly as we can. Not guaranteed service. We ship out on Monday - Friday, and we usually do not ship out on Saturdays. If you have any question, please contact us
Depending on our stock and product availability, shipping may take 2 - 3 weeks after final order/payment approval and availability. Please order *earlier* and allow 2-3 weeks for delivery for the items out of stock. We *will* make sure to inform you by email if our delivery takes longer than 1 week. We will do our best to deliver the out-of-stock items to you as fast as we can.
[Payment Options]
We accept Credit Cards, Bank Transfer, e-Check payments via Paypal feature as well as Check and Money Order Payments.
Credit Card
Credit Card payment option at the end of ordering process will bring you to the page powered by PayPal. Choose [Dont have a PayPal Account?] option to pay by your Credit Card or bank account (where available) if you do not have a PayPal account.
Please view before you pay by Credit Card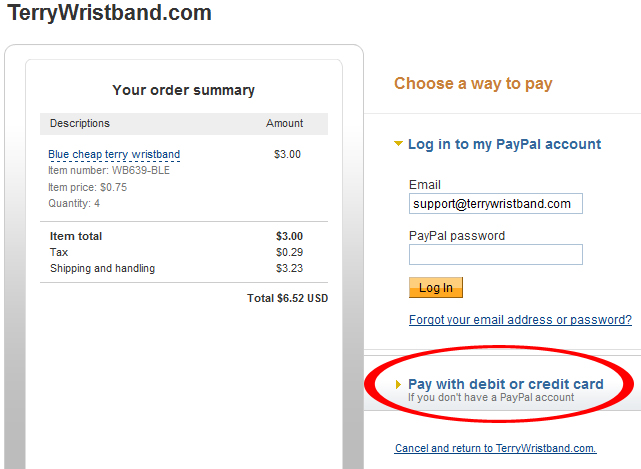 Please *do not* mail CASH. We do not accept CASH payment. If you send us cash in your mail, we are not responsible for its delivery nor its loss.
[Returns and Refund]
If the merchandise that you ordered is unopened and in saleable condition, we will refund you the cost of the items minus shipping and a 15% restocking fee; this means shipping charge is not refundable, and we need to deduct 15% restocking fee. You must return products for exchange or refund within 30 days from the invoice date.
Returns Rules & Regulations
If you would like to return an item, please notify us or by email within 7 days after receiving your order. We will give you a Return Authorization number to be written in the RMA REQUEST FORM, which must be included in the return package.
RMA numbers are good for 21 days only
A Return Merchandise Authorization (RMA) number issued by TerryWristband.com must accompany all returns. The RMA number must be written on the outside label of every shipping box. We cannot process returns without this number.
RMA numbers must be obtained no later than 7-days from the date you accepted delivery.
All products must be returned in "sellable" condition. Products must be sealed, unopened, and in original packaging.
All returns must be shipped freight prepaid. In other words, customer must pay for the shipment of product from customer's location to ours.
All related fees (shipping & return shipping fees) are NON-REFUNDABLE for all products. You may wish to insure your return. If we do not receive it, we cannot credit you.
Refunds will be issued upon receipt of the returned product and approval from our credit dept.
Product returns cannot be accepted after 30 days under any circumstances.
If paying by Money Order only Store Credit can be issued.
We cannot accept return of custom-made or embroidered items
All returns with RMA form must be shipped to:
TerryWristband.com
ATT: Returns
14619 CARMENITA RD
NORWALK, CA 90650

Download and fill out our RMA REQUEST FORM and put in your return package
Include a copy of your invoice and RMA form in your return package along with the returned merchandise. Be sure to write the RMA number on the outside of each package. Send the package to us via a TRACKABLE method (such as UPS, FedEx or USPS with delivery confirmation). We are not responsible for merchandise lost in the mail.
[For International Customers]
We will ship to within the United States and CANADA only for the orders made at this online shop.
If you are an international customer interested in our products, please send us an Inquiry to support@terrywristband.com
If you have any question, please feel free to contact us at any time